(A super short post with an infographic that will take less than 5 minutes to read)
It's an unexpected thing to say, but I enjoy a Business Show!
Yes, I know.
Bit weird!
I enjoy business shows for a number of reasons:
I always catch up with people I know and perhaps haven't seen for a while. Plenty of hugs!
Free stuff! And I don't mean the pointless merch (although some of it is pretty cool) – I mean the free advice, support, workshops, networking and inspiring speakers. I always go away feeling informed and inspired.
Connections and buzz. There's indescribable energy in the room at a business show – a frisson of people having conversations, making new connections and productivity
It's been a while since I exhibited, but I have spoken at South Gloucestershire Business Show and Bath Digital Festival in the past few weeks.
Whether you decide to have a stand, offer to speak, or just to attend as a delegate, there's plenty you can get from a business show with a little forward planning.
It can be easy to just cruise on in unprepared, and meander aimlessly around stalls, picking up the odd freebie, eating too many sweets and although that might beat being in the office, it's not particularly productive.
So, here are my six top tips to make the most of a business show when you're attending as a delegate: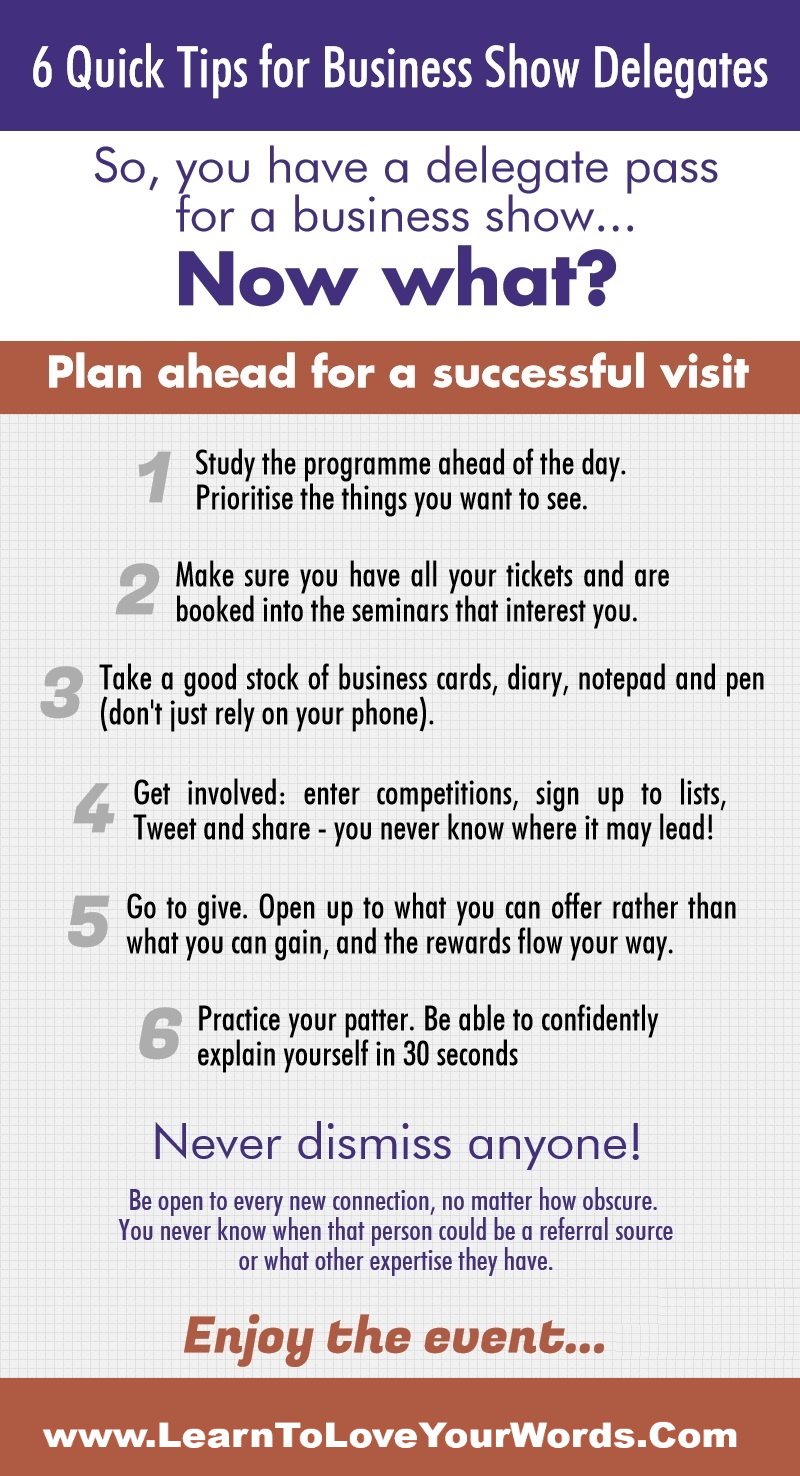 Have ONE big goal for the business show
What's the one thing you want to see or the person you want to meet. Be realistic, you won't secure a massive contract with one conversation, the goal is to make the initial connection then nurture it beyond the show.
Be organised
Book in for things you want to see as soon as possible, don't leave it to the day, they may have filled all the spaces or won't allow you to book in on the day.
Be prepared
Take notes, make appointments, hand out business cards when you have a conversation. Don't rely on your phone… what if the battery runs out or you have no signal?
Get Involved
The more you put in the more you get out. Go to the talks, seminars and networking. Make the most of the people and the time there.
Give, Give, Give
Have a mindset that you want to give and help rather than you want to get. Givers always gain and there's less pressure to 'sell' if you're there to make connections and be helpful. Let the business karma take care of the rest!
Like these tips and want monthly top-ups for your inbox?
Save
Save