It gives me great pleasure to welcome back the very talented teenaged entrepreneur Marc Guberti.
Marc wrote a guest post for Idea'ism in November 2014 on top tips to make better use of your time. You can read it here here: http://bit.ly/MGuberti_TimeMngmt
Marc is a prolific writer and is highly successful on Social Media.
Here are his 4 stages for having more conversations on Twitter: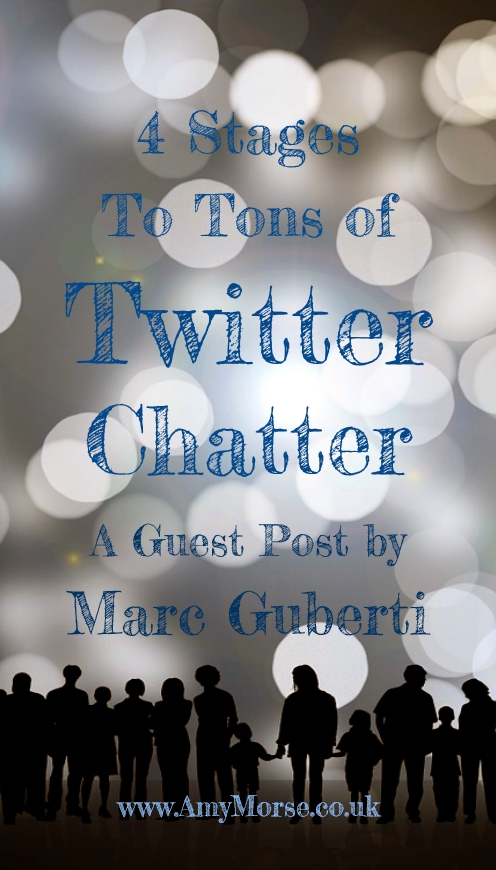 4 Stages To Having Tons Of Twitter Conversations
Wonder how the influencers get so many opportunities from Twitter? For some influencers, their audience sizes have something to do with the opportunities they get. However, there are other influencers with smaller audiences who still get opportunities. I know several people with only a few thousand followers getting speaking engagements and appearing as columnists for high-profile magazines such as Inc and Entrepreneur.
Audience size is a small part of the equation. Don't believe me? Take a look at the people who contribute for Inc and Entrepreneur (and others). Not all of them have massive Twitter audiences, but they write great content and know how to build healthy relationships.
Engaging in conversations allows you to better know who your audience is, and that knowledge allows you to better serve them. Having conversations can also open the door to many opportunities.
Interacting on Twitter will always be important, but there must be a flow. You must have guidelines that you go by to have a Twitter conversation to ensure that your current conversations go well and you get involved in more conversations in the future. If you want to have tons of awesome Twitter conversations, follow this four-step process.
Stage #1: Tweet High Value Content
Just because you are on Twitter does not mean people have a reason to interact with you. With hundreds of millions of people on Twitter, the way to have more conversations is to stand out with high value content that your targeted audience would be interested in.
Tweeting high value content won't get you tons of Twitter conversations when you first start. However, as you consistently tweet high value content, more people will take notice. They will pay more attention to your tweets and decide to engage with their favorite ones.
Tweeting high value content will make it easier for people to appreciate your tweets. This first stage is necessary preparation for building upon your credibility so people will have a strong desire to interact with you.
Stage #2: Thank People For Sharing Your Content
At some point, more of your followers will take note of your high value content and start sharing it with their followers. Regardless of whether the tweet from one of your followers gives you 20 extra Twitter followers or zero extra Twitter followers, one thing is certain—the person who sent out the tweet appreciates your content and what you do.
When you see someone retweeting you or sharing one of your blog posts, it is easy to think that you have won. It is easy to think that this person will continue engaging with your content and that you have a healthy relationship with that person.
Don't believe it. The web has given us more options than ever before. Taking some inspiration from Adrian Monk, the web's ability to provide us with so many options is "a blessing, but a curse." We travel across so many blogs that it is easy to forget a particular blogger we previously found interesting a few weeks later. I forget the names of some of the people whose content I share a few days later. I know because I write their names on a sticky note and remember them that way.
When someone retweets your tweet or shares one of your blog posts, thank that person. It can be as simple as saying, "Thank you for retweeting me," or "Thank you for sharing my blog post."
People don't expect the "Thank You" which will make you stand out all the more. So far, I haven't received a negative response by thanking someone, and I have thanked thousands of people for sharing my content.

Stage #3: Continue The Conversations Once They Start
Once you thank someone and that person responds, don't hesitate to continue the conversation. The longer a Twitter conversation lasts, the stronger the relationship between you and that follower will be. Here are some ways to continue a conversation:
Ask questions
Add insights that strengthen the conversation
When in doubt, think about what you would do if you were having a conversation with the person in real-life. Remember that there are people on the other side of the computer typing away just like you are. These people have had real-life conversations before.
You get an idea of how these people interact by their tweets. How would you continue the conversation in real-life? That's how you continue the conversation on Twitter.
Stage #4: Repeat and Maintain
The first three stages will allow you to have a lengthy conversation with one person. However, you want to have numerous conversations with your followers and other people who you appreciate.
Consistency allows you to become successful on social media. As Twitter expert Kim Garst perfectly put it, "You cannot hit home runs; just single after single after single with the occasional double thrown in." Don't aim for the fences. Go for the singles. The conversations you have on Twitter are those singles. A single alone doesn't do much in a game of baseball, but imagine the power of 20 singles in the same inning.
What Are Your Thoughts?
How do you get into conversations with your Twitter followers?
Which of these stages do you think is the most important?
Sound off in the comments section below!
Marc is a prolific writer and has several books out on Amazon, all of which contain some great, easily accessible tips here he is on Amazon and here are some of his books:

Connect with Marc:
Blog link: www.marcguberti.com