"How can I get people to book and pay?"
It's a question I get asked a lot when supporting micro enterprises.
Being in business is not easy but you can keep it super simple.
I use a free platform for my online booking: 10to8.com
As long as you keep your online calendar updated, it will update the bookings calendar, too.
I use MS Outlook but it also works with other calendars like Google and Apple.
You also need to remember to login at least once a month to keep the free package and calendar link, but if you are regularly picking up appointments you'll do that anyway.
Setup
Once you create your login, it can be a bit of a faff to set it up, but well worth dedicating the time to explore the features and set up an online booking system properly.
This is the dashboard and set up area. I have set up a range of different services.
The ones I use the most are: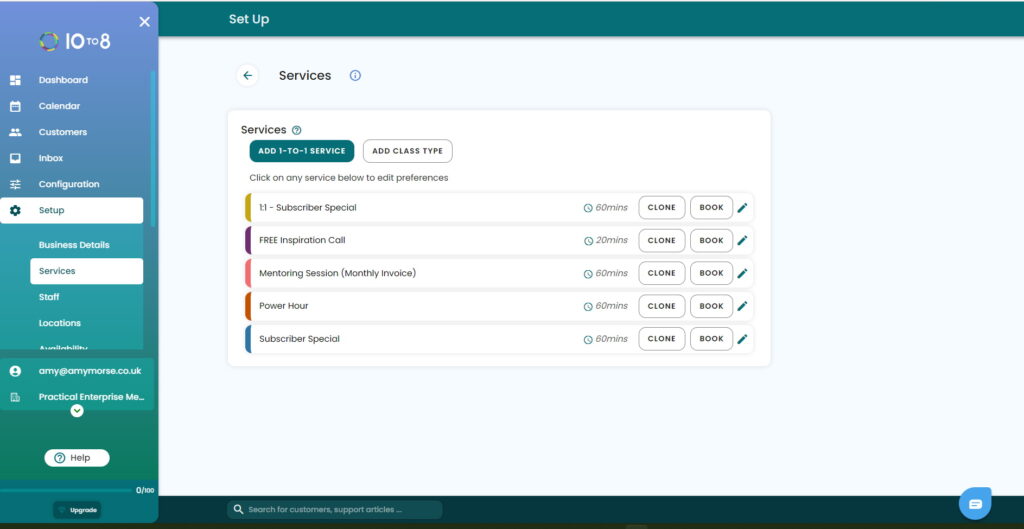 Integration
It integrates with PayPal so people can also book and pay online.
It also integrates with other software, too. If you use a few different packages, it could be a neat way to keep everything on one place. You may have to pay for these extra features, but if you have volumes of calls and a few people using the calendar, it could be a good value option.
Personally, I'm a bit of technophobe and try to keep mine minimal so I have set it up with Zoom. When a booking is made, an auto email goes out with the Zoom link.
The free version is fine for me as I don't use all the features, just the bookings and payments and I don't have many calls to manage through it.
Who can use it
For any business that books time slots and uses a dairy system, this is a great platform and you can include the link on your website, socials etc.
For example: therapists, coaches, trainers, beauticians, consultants, etc.
More Information
Here's a handy article on how you can make online booking work for your busines – READ MORE



PS: this isn't a sponsored post and there are no affiliate links. I just want to help.