Why wait for NaNoWriMo (National Novel Writing Month)? There's no rule that says the only time you can try to write a novel in a month must be November.
I knew that August would be a fairly quiet month for me and I really want to get the last book in the Sheridan and Blake Adventure Series written so I set myself the challenge of completing the first draft of 'Gabriel's Game, Part 2: The Black Knight' by the end of August.
The first part of the final book in the series, 'Gabriel's Game, Part 1: The White Queen' came out a few weeks ago.
I have already written some of part 2, my characters are firmly embedded; Tom Sheridan and Sasha Blake have been living in my brain for the past 4 years and I already know how their story ends, I just need to let them stretch their legs on the page.
I've written before about goal setting, I'm a great believer in it
http://ideaism.blogspot.co.uk/2015/01/ten-reasons-to-train-yourself-to-be.html
I'm also a great believer in a personal challenge, but when you embark on a mighty project like this, it's important to do so with your eyes open.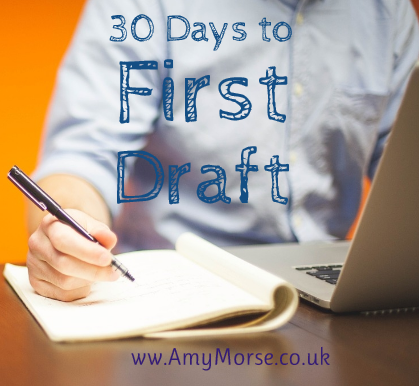 Here are my 9 tips to help you write a first draft in 30 days
Decide what your target is, then divide it by the number of days to set yourself a daily goal. In my case, I want to write 30,000 words = 1,000 words a day
Just write.  Even if you churn out a load of rubbish, that's fine – no writing is ever wasted. The more you write, the better you'll get at it.
It's okay to take chunks out. It's disheartening to reach a word count target, then the next day go backwards. Don't fret, you can use the words you chopped out for another project, save them in a scrapbook folder somewhere on your computer and keep going, it won't take you long to catch up on yourself and your writing will be better for it.
Ignore the red squiggles (or switch them off). Get to a good place to stop, ie: end of a chapter; before you worry about going back and correcting things. I've seen other advice suggest you write with the monitor off or don't change any spelling, typing and grammatical errors until the very end. Personally, that does my head in. Each day when I start writing I self edit the chapter I'm picking up from as a way to help me get back into the narrative.
Have a plan. You don't have to slavishly stick to it, but at least prepare some sort of narrative plan, character sketches and a story arc before you start writing. If you're setting out on any journey, you always need to have some idea of the destination or direction to take.
It doesn't have to be linear. This might be tough to get your head around, but you don't have to start at the beginning and plod through in the order the story will eventually be in. Perhaps there is a scene you are desperate to write but it doesn't happen until half way through. So what… just write it and get it out of your system. Perhaps you hit a block and don't know what comes next? That's fine, pick another scene and write that instead, it may even help you see a path from where you left off to where it reconnects.
Protect your writing time. Ahead of the month, go through your diary and block out the time you need then jealously guard it, don't let anything else get in your way.
Communicate. If making time in you schedule will impact others ie: your partner or the children, make sure you communicate with them and give them plenty of notice. Ask them to respect the time you need to complete this project, plan ahead to make alternative arrangements for example, do you really need to be the one to run that errand at that time or can you combine it with another errand, do it another time or delegate it to someone else?
Be realistic. If you can't make the time you need to reach that word count goal, set a more achievable goal. Always overestimate how long something will take you. If you think it will take an hour, allow an hour and a half, giving yourself a break and a little leeway will keep you motivated.
Here are some other links from around the web with some tips to get your going:
Why is August a better time than November? The keen eyed among you will have spotted my reference to 30 days to first draft – that's a bonus extra day in August!
As I approach the end of the month, I must confess, I am behind on my word count but I'm quietly confident that I can finish the first draft of 'Gabriel's Game, Part 2: The Black Knight' at the start of September and I'll be very happy with that!
Good luck!