What's the one area of your business that scares you?
For me, it's the financial stuff, I've always been bad at numbers – I still have cold sweats when I think about the evil teacher I had at primary school – Mr Williams – who made fun of me because I couldn't recite my times tables parrot fashion at the age of 7!
On the other hand, give me a spreadsheet of data and I'll go off on my merry way playing with formulas and graphs – it's all in the tools.
With a guiding hand and the right tools for the job, that big, hairy, financial, bogeyman loses his potency.
James Comer, of James Comer Accounting, demystifies the process, and with him your business finances are in safe hands.
I'm proud to host James as a guest on the blog this week.
James specialises in helping businesses use technology to be better at managing their money.
He's also a jolly nice chap and comes highly recommended.
Here are James's top 5 tips for start-ups to get to grips with their accounts before they get a grip on you.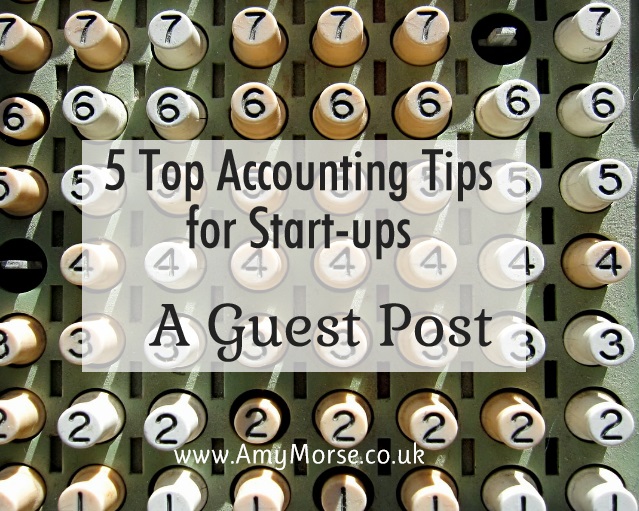 Top 5 Accounting Tips for Starting-up in Business
So, you have decided to take the plunge and set-up your own business?  You now have a million ideas running through your head and reams of scribbled "to do" notes.  But where do you start?
Well, a good place to start is with the item that typically makes the very bottom of the list –  your bookkeeping and accounting.
Here, Bradley Stoke based accountant James Comer talks us through his top 5 accounting tips for start-ups:
1.    Speak to an accountant before you begin
Although it may be at the bottom of your list, or may not have even made the sheet of paper, seeking professional advice from an accountant is vitally important when you start out.
A good accountant will help you start off on the right footing with your accounting, provide useful advice about the best approach to your business and also be able to introduce you to their network of contacts.
From pension providers to graphic designers and beyond, an accountant will be a great source of contacts to help you and your business.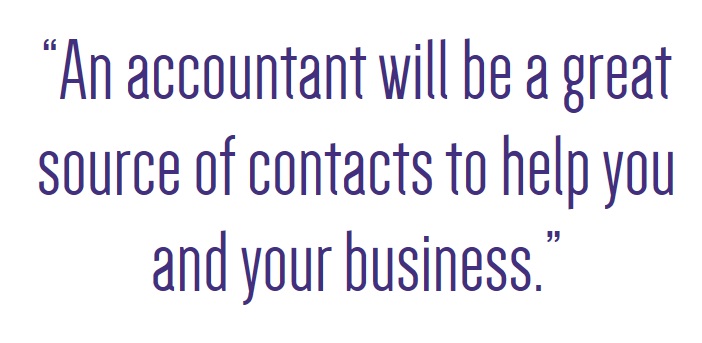 By speaking to them early you can avoid any nasty surprises later and benefit directly from their business knowledge.
Despite what you might think accounting isn't just about numbers.  It is all about building your business knowledge and skills then assisting your clients with their business needs.
2.    Set up your accounting systems from the start
A strong robust accounting system will soon become your best friend in business.  Not only will it capture all your financial data and provide valuable reports to track your progress but it will also assist with key parts of your start-up such as producing reports for debt collection and identifying areas to potentially improve your profit margin.
The key is implementing a system that is the right fit for you as an individual and one that can grow with business.  Anyone can buy an off the shelf bookkeeping package or be force fed a system their accountant uses.  However, be brave and speak to your provider about ways the software can be tailored to suit your needs.
3.    Plan Ahead
The data produced by your bookkeeping system is fantastic but it is important as a business owner that you use it.
I always advise my clients to review the financial information every quarter to get a feel for the numbers, the profitability of the business and potential cash-flow shortfalls.
Along with reviewing the financial data for current trends it is also useful to utilise this information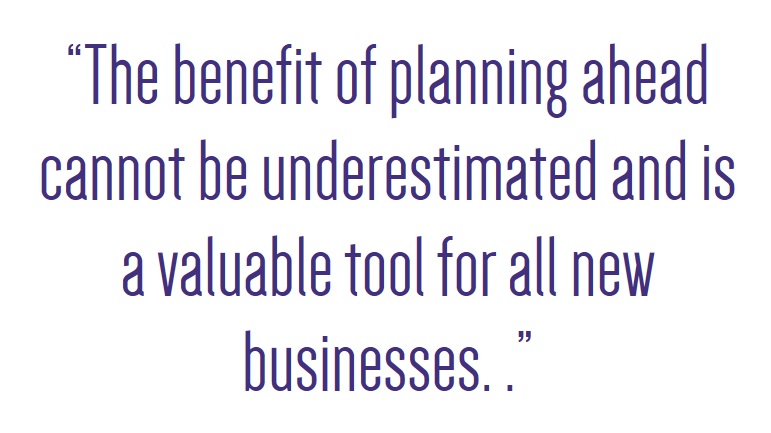 to forecast for the future.  This can include knowing when you may require an overdraft facility, producing a profit forecast to help raise finance or even identifying when may be best to run a promotion to stimulate sales.
The benefit of planning ahead cannot be underestimated and is a valuable tool for all new businesses.
4.    Learn and grow
We all make mistakes in business that is a fact of life, nobody is perfect.
Whether this be taking on a client that becomes a bad debt or signing up a large client that you struggle to meet demand on.  The benefit of using an accountant and online bookkeeping software is that you will be able to track data in real time.  This is a great tool for assisting the growth of your business as you can react quickly to circumstances directly affecting your start-up.
For example, if your main customer is not paying on time the software will tell you and you can review their credit terms to nip this in the bud before the debt becomes a significant problem to you.
5.    Embrace technology
With the constant changes in technology affecting everyday life, why wouldn't you want to embrace it within your business?
With HMRC plans to make tax digital by 2020 it is advisable to utilise bookkeeping technology from the start of your business.
Online accounting software is a great tool to manage your bookkeeping on the go with it all backed up safely within the cloud.  This enables you to login, process transactions and reconcile data wherever you are.   With the added peace of mind that the accountant can view remotely any changes you have made.
Apps are also readily available that will feed directly into the software to assist you.  From stock control management to tracking sales and taking photos of your receipts to upload, all your affairs can now be managed efficiently online.
James Comer Accounting Limited is a sole practitioner firm based in Bradley Stoke specialising in helping local Limited Companies, Community Interest Companies and business start-ups utilise technology to manage their business finances efficiently.  James is an avid fan of online accounting software and the benefits this can bring. 
Further information on his services can be found at www.jamescomeraccounting.co.uk  or by contacting him directly on 01454 501894.
A big thank you to James for offering his insights!
What accounting software do you use, and why?
---
If you enjoy my blogs, say thank you by topping up the coffee kitty