I write. I've written books. I've written hundreds of blogs. I bullet journal. I have a pen in my hand when I read. When I have an idea I process my thoughts by writing about them – writing helps me make sense of the world.
But is it easy, pah! No!
I may have an inclination towards writing, but when I sit to write with intentions it's by no means an easy process. It doesn't come naturally to me (are there actually humans who can sit down to write magic in one sitting?).
It's why I'm not a 'pen for hire'.
I don't do copywriting – Sure, I could 'sell' myself as a writer, but I don't because deep down, I know I'm not and I don't want to!
Deciding What You Do and Don't Want To Do
We all have things we 'could' do but don't want to, don't know how or don't like doing. The 'Fun Window' is a useful model to help you decide what to spend time on and when to do it.
Like + Can Do
These are things you enjoy and come naturally to you. This is Maximum Fun. Do more of this!
Don't Like + Can Do
This is where being a pen for hire comes in for me. I am able to do it, but I don't like it.
These are things that you may find you do in the short term to reach another goal, but please don't make them core to your plans. This is really Unfun!  These are the things to say 'no' to, or delegate, or only do as a last resort and only temporarily.
Your intentions should always be to enjoy what you do!
Like + Can't Do
These are your plans for the future. Things to work towards, the things to take on as part of your continuous professional development. They are enjoyable activities and you get a huge sense of satisfaction from having learned a new skill.
This is where many of my clients are. They are in the early days of their writing journey and it's hard, but with time, effort, focus, feedback and practice, soon the skills they learn will come naturally to them and can become Maximum Fun!
Don't Like + Can't Do
These are Zero Fun. They are miserable and hard. Best avoided!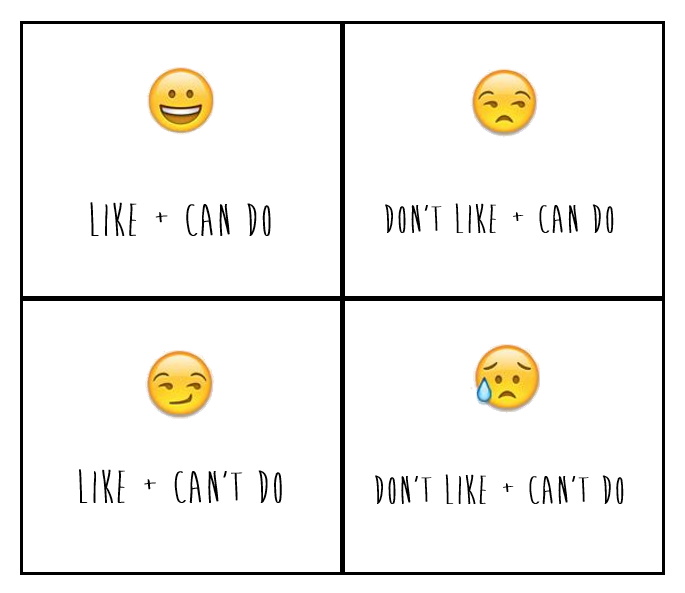 Why I Made My Choices
I never went into journalism, despite early forays at school writing PR pieces for the local paper from my role sitting on the school council. Politics and PR never were my thing.
I mostly wrote for the local paper and school newsletters because it got me out of PE and gave me 'extra-curricular' points I could add to future college and job applications!
Instead, my day job took me down the route of training. My intentions have always been to empower others. I want to be an encourager, I like being helpful, like supporting people. I like seeing the lightbulb flick on when they make a realisation.
When I run a workshop or give a talk my measure of success is that participants leave the room with a spring in their step and smile on their face. That's it.
I'm not trying to sway their opinions or foist mine on them. Even a small experience doing things with a local paper and investigating a career path into journalism and PR in those school days was enough to put me off. I knew I wouldn't fit in.
Although I liked the idea of being like Kate Adie (because really, how awesome is she!) and reporting from exotic locations, getting behind the scenes, exposing truths – I knew I didn't fancy the reality of it!
Writing is something I do for me.  I did it for a hobby when I felt like it and have ideas to explore. The notion of having to do it on demand and try and make anything interesting – even things I disagree with or have no interest in  – makes me feel slightly queasy.
It's why I don't do copywriting, yet, frustratingly, I still get referrals for copywriting jobs! At least I now have the courage to say, "No".
Don't misunderstand me, I have great admiration and respect for anyone who is able to write on demand, make it engaging and do so in someone else's voice. But I'm the first to admit that I suck at it!
It's a skill I admire but don't possess (and I'm fine with that).
No Competition
I don't want to 'compete' with copywriters but I'm always open to collaborations.
My audience is different – there may be some cross over – but I'm not in the business of trying to make people write who can't or don't want to.
I'm here for the realists and the dreamers. Those who want to write (for business or pleasure). They already have the inclination and I help them convert that into intentions.
I don't do copywriting, but I do bring my 20 plus years of experience as a trainer, coach, mentor and advisor to empower those that are open to it.
Making Writing Easier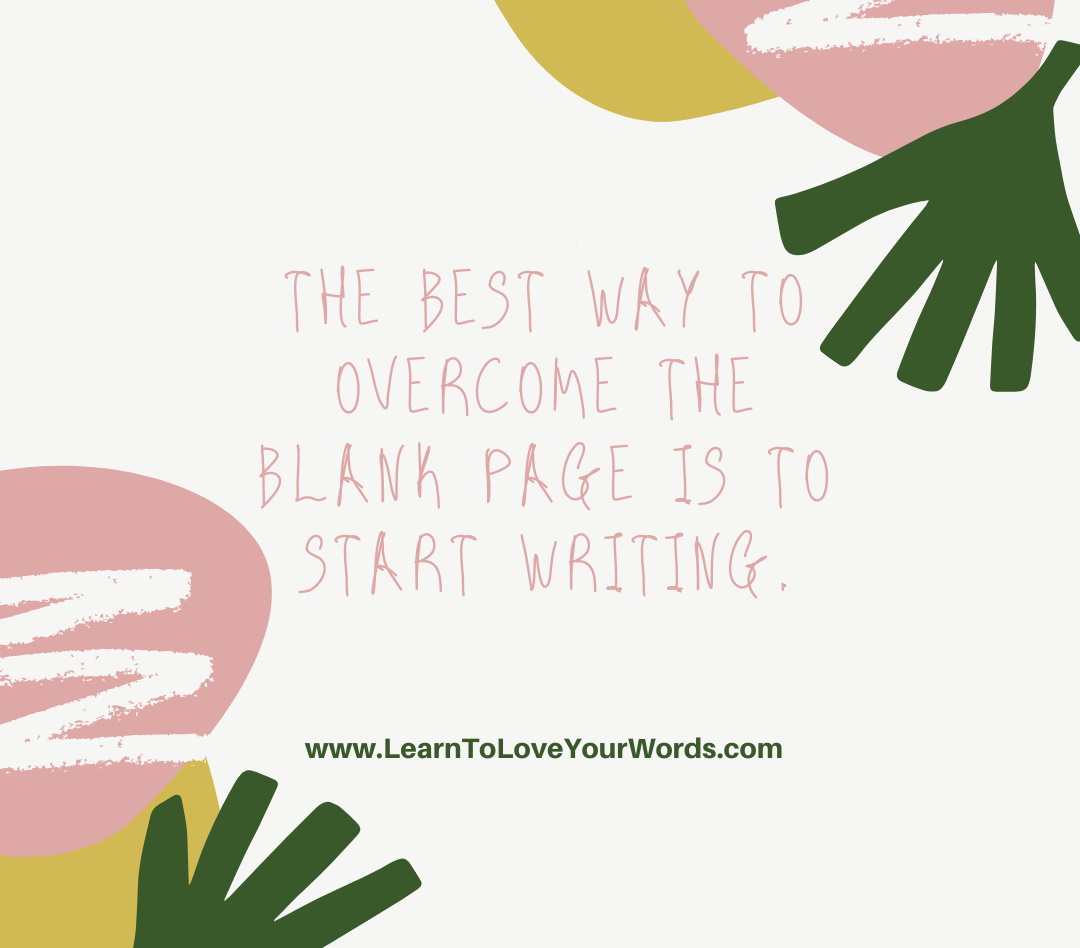 Because I find writing on demand hard, but I still have to do it for my own business (and sanity), I set intentions to try new activities, tools and techniques to get the writing juices flowing.
Here are my favourite techniques:
Unintentional Writing
We've all had those days where we intend to write, sit at the screen and our mind goes blank. We'll do anything to get out of it because it's hard.
I'm immediately going to dismiss the notion of 'writer's Block', because when you give it a name, you give it power, and it's not a thing, it's just your own motivation and discipline!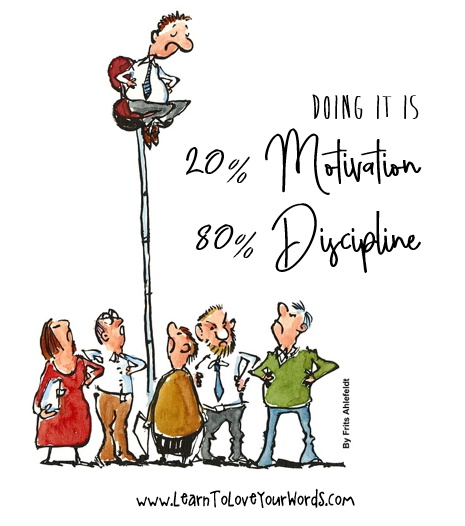 Don't let yourself get away with it! Be true to your intentions.
If your boss was breathing down your neck telling you to 'write that blog or write that book chapter otherwise you're fired', you'd do it. The best way to overcome the blank page is to start writing.
Write for no other reason than the experience of writing. Unintentional writing is a powerful way to break through creative blocks. Write for 30 minutes. Write whatever is in your brain, even if it's…
'I'm really struggling to know what to write because my brain is full of…'
It sounds weird and you might feel silly at first – but remember, no one needs to see it – but trust me, it really works. The point is to clear through the fog and engage the muscle memory for writing. See where it takes you!
Journalling
An extension of writing unintentionally is journalling. Check out Bullet Journalling if you want to learn simple techniques to make it more productive. Journaling is a small act of daily productivity that supports your mental health and gets you into the routine of regular writing.
Make Time To Write Regularly
Like improving your level of fitness, it's far more effective to do a little writing regularly than a couple of bursts of activity each month.
Pro Tips To Be Disciplined To Write
Block out space in your diary at least once a week for a couple of hours
Chunk the time into short burst, i.e. 30 minutes every other day
Hold the space and protect it – don't book anything else into that slot
If you have to eat into your writing time, negotiate with yourself and swap out the time on another day
Stick to it!
Show up with a positive attitude. If you show up to your writing time thinking "This is hard." Or, "This is indulgent, I shouldn't do it." Or worrying that you can't do it or it won't be perfect.. it will become a self fulfilling prophecy. Show up telling yourself that this is your time. You have been looking forward to this. This is for your own self  care and mental health. this is your space t be creative, it is far more motivating and energising (there's your 20% motivation!)
Happy Writing!
---

Flip This on Flipboard
Struggling to find your writing mojo?
Book a FREE 30-minute Inspiration Call with me and learn to write with courage, confidence and creativity!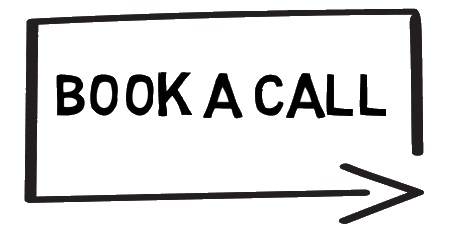 ---
For instant updates when I publish a new blog post, Follow me on Bloglovin'
For extra goodies and exclusive new information, join my mailing list HERE.