The world of work is changing.
Many of the small businesses I work with were started by working mums. Women who need a career and a purpose, while being a mum.
But it's not only stay at home parents who demand a more flexible approach to their life and work.
I'm not a mum, but the freedom to work when I want to, with who I want to and where I want to is core to the values of Learn To Love Your Words. If I can help others to do the same, to find their voice and pursue their passion, then I've done my job!
So, I'm happy to host Heather Redding on the blog.
For those at the start of their self-employed journey, looking to change their focus or look for other income streams to remain sustainable, here are 5 suggestions to consider…
5 Lucrative Businesses for Stay at Home Parents
At one point in time, people generally had to choose between being a stay-at-home parent or having a job.
Today, however, thanks to a growing range of online opportunities, there are more options than ever before for stay-at-home parents to generate an income.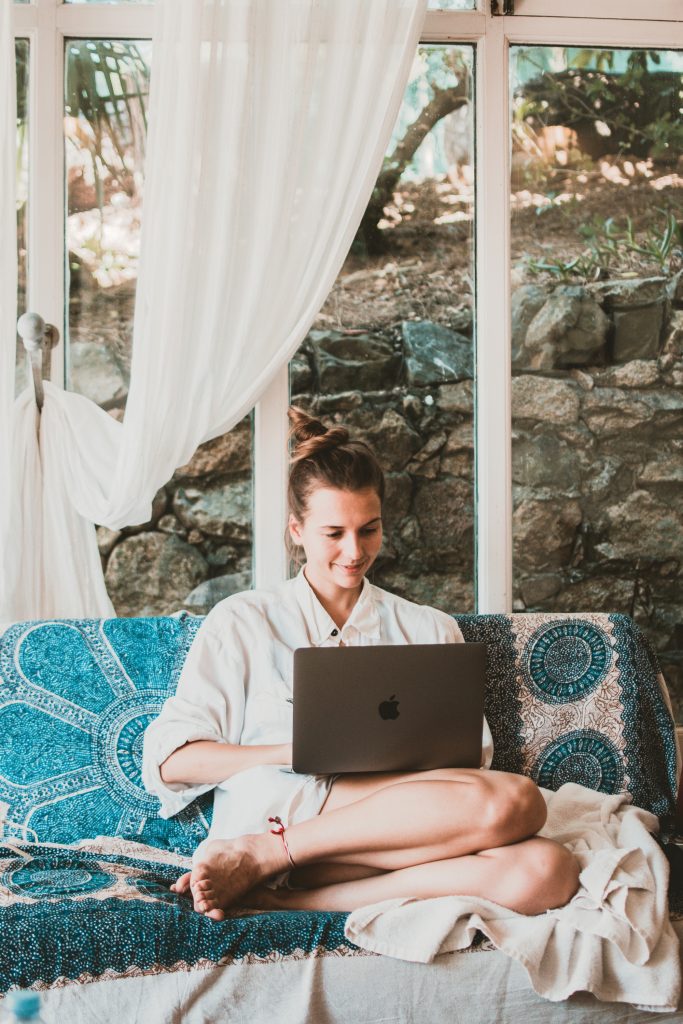 source: pexels.com
While being a stay-at-home parent can be a full-time job in and of itself that may leave little time for anything else, there are plenty of flexible employment opportunities that allow you to fit work around your parenting schedule rather than trying to fit your parenting schedule around work.
Whether you need to support your family just on your income alone or whether you just want to generate some additional income around the holidays or throughout the year, here are five lucrative business opportunities for stay-at-home parents.
1. Direct Sales
Direct sales businesses have been a go-to for stay-at-home parents for several decades now and many home-bound parents have turned them into lucrative empires.
From the early days of Amway and Mary Kay, direct sales businesses have blossomed into offering almost every product under the sun.
Whatever you are passionate about, from wine to cosmetics to jewellery to chocolate to essential oils to health and fitness products, there is more than likely a direct sales company that offers a product you can get wholeheartedly behind.
And if you want to go the old-fashioned, tried and true route, both Mary Kay and Amway are still alive and kicking and doing a booming business.
2. Writing
From resumes to grants to articles to books, there is no shortage of freelance or remote work opportunities for individuals with some good writing skills.
Some writing opportunities can last several months, such as ghostwriting a novel or memoir or grant writing.
Others may only take a few hours, such as writing an article or blog.
Blogging, in and of itself, is also a means towards a lucrative income and you can even use your blog as a portfolio of sorts to attract other writing clients.
Just like starting any business, you may have to slave away for pennies at first but there are many ways to get started building a writing empire.
Sites like Fiverr and Textbroker are both great places to pick up some work quickly, while platforms like Blogger and WordPress are great places to get started writing your own blog.
Being a parent in and of itself is an ongoing learning process and there are millions of parents out there learning right along with you.
Your journey as a parent can even become a great material for a blog.
3. Web Design
The old days when building a website involved knowing a number of different coding languages are long gone.
Today, there is a wide range of hosting sites available that have easy to use templates that allow you to create a completely customized website with little to no coding skills.
DIY drag and drop website builders like Wix, Weebly and SquareSpace are all great places to start. From there, you can move into more challenging areas like specialized eCommerce platforms or self-hosted platforms like WordPress, Joomla! or Drupal.
Web design is a pretty easy skill to teach yourself through simple trial and error and practice.
A good way to get started is simply to find someone who wants a simple website but just doesn't have the time to build one themselves. You can charge them a small fee for your time, which allows you to get paid as you learn.
When you can deliver a much more complex and challenging site, then you can start charging clients the big bucks.
Until then, set a fee that is commensurate with your current skills and increase your fee as your skillset increases.
4. Virtual Assistant
From customer service reps to virtual receptionists to various types of admin support, there is a growing demand for home-based virtual assistance of all kinds.
From answering phones to creating spreadsheets to performing basic data entry, the sky is virtually the limit to the kinds of work you can do from home.
In some cases, you may actually have a work from home job with set hours or you may prefer the type of assignments where you can simply log in whenever you are available.
Websites like UpWork and Guru are great places to get started, but you can also find a wide range of customer service and virtual assistant jobs on more traditional job sites like Indeed and Glassdoor.
5. Graphic Design
Whether you simply have some mad Photoshop skills or have a more serious background in graphic design, there are a number of ways to turn a hobby or office job into a lucrative home-based business.
If you're not entirely sure where your skills fall on the marketable spectrum, you can start with a site like 99designs where you compete with other graphic artists for clients.
The benefit of this is that you get feedback from clients that may pass your work over for someone else's that can help you improve.
If you already have marketable skills and professional background, you might skip right to a site like Toptal or PeoplePerHour.
Making Time for Family
Being a stay at home parent comes with different levels of responsibility for different parents.
Caring for toddlers, for instance, may leave you with much less work time than parents of school-aged children. You may also have more time to devote to work during school months than during the summer.
The beauty of virtual, online and freelance opportunities is that they allow you to work on a schedule that is most convenient for you.
Still, you will have to organize your day well, which can be challenging with the kids around. You can do that by using apps that will help you organize yourself and your family too.
Final Thoughts
Pick up some work during the slow months when the kids are in school and then simply decline opportunities that interfere with the needs of your family.
Not all stay at home parents will need to support their entire family just on their income alone but a great number of freelance and online opportunities make even that a possibility.
---
Heather Redding is a part-time assistant manager, solopreneur and writer based in Aurora, Illinois. She is also an avid reader and a tech enthusiast. When Heather is not working or writing, she enjoys her Kindle library and a hot coffee. Reach out to her on Twitter.
---
For instant updates when I publish a new blog post, Follow me on Bloglovin'