I first started blogging in 2013. Since then, it has been the foundation on which to build my business.
Build A Blog, Build a Business
I still keep that blog, it became my Amy C Fitzjohn author blog.
But blogging quickly became much more than a writing exercise for me back in 2013.
Blogging became a way to hold myself accountable. It became a way to accelerate my progress to get my first book, The Bronze Box, published in 2013.
My blog quickly became the foundation of my business, both as an author – writing as Amy C Fitzjohn– but also as a Content Coach, when I started my business in 2015. That was when a flippant remark to a business colleague coined the nickname 'Amy Queen of Blogs'!
For me, blogging is so much more than just a form of marketing.
More Than Marketing
While blogging undoubtedly contributed to the initial success of The Bronze Box and has helped build my profile as an Author, Content Coach and Blogger – I started making money from my blogs when I repurposed my content into high-ticket items.
I blogged previously on 16 Ways to Re-Purpose Content, the most successful being:
Here's a short video about my story – Why I started blogging and how I turned it into a business.

The next big project is to take those years of experience, building my business around blogging and share them.
I'm developing an online programme to help other businesses discover the power of their own words and grow their business by blogging.
The full 'Build Your Blog' e-course will be available at the end of the year – with some pre-release modules coming up in the next few months.
Here's what it will cover: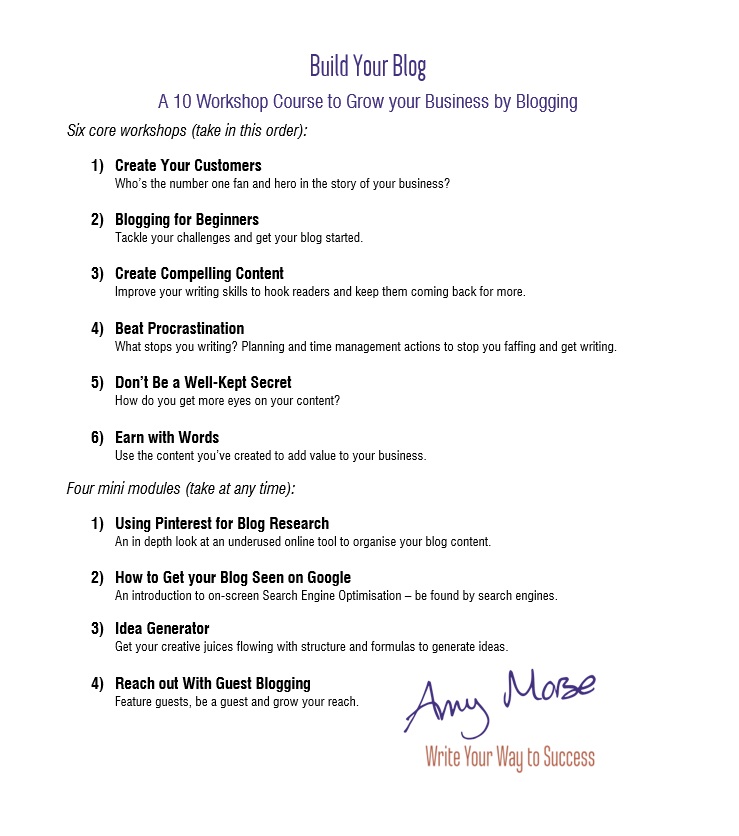 Be the first to find out more about the forthcoming e-course (and get introductory offers!) – sign up to my monthly newsletter HERE

Save
Save
Save
Save
Save
Save